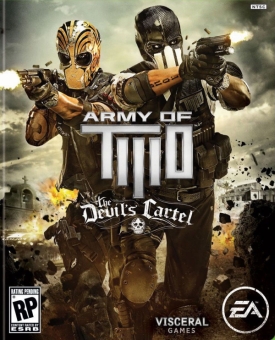 EA and Visceral Games have announced that Army of Two: The Devil's Cartel will be released for the PS3 and Xbox 360 on March 26, 2013.
The Devil's Cartel is Visceral's first crack at the Army of Two series, and they want put their stamp on it with a story that is "more intense and mature." The game's topical plot focuses on the titular Army of Two protecting a Mexican politician from a bloodthirsty drug lord.
"With Army of Two: The Devil's Cartel we wanted to take the series in a new direction while also leveraging the aspects that made the first two Army of Two games unique," said Julian Beak, Executive Producer, Visceral Games. "We knew coming out of the gate that meaningful co-op gameplay, customization and over-the-top action would be key pillars for us, and we're bringing these elements to the next level by presenting them in a setting that is more serious in order to dial up the intensity."
To sweeten the pot, EA has also announced that everyone who pre-orders The Devil's Cartel will be upgraded to the "Overkill Edition," which comes packed with exclusive powerups and weaponry.
More details on the contents of the Overkill Edition can be found after the break.
Overkill Edition Content
Early Access to Three "Overkillers" Contracts: Unleash massive destruction with three Contract variations designed for maximum rampage! Players must kill enemies and cause environment destruction to earn enough points to continuously stay in Overkill while making their way to the extraction point.
Tactical Co-Op Gear: Lay down sustained cover fire with the TAH-9 side arm while decked out in the polymer textured outfit and mask or wield the Double D automatic shotgun while battling in the intimidating Overkill mask and outfit.
Celebrate the Day of the Dead: Bust out the Day of the Dead themed assault rifle and take on Mexico's most ruthless drug lords in Day of the Dead themed outfit and masks designed by popular tattoo artists.