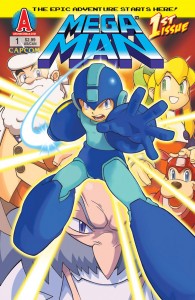 It's been a bad few years for Mega Man. Mega Man Legends 3 and Mega Man Universe were both canceled by the powers that be at Capcom. In fact, the Blue Bomber hasn't actually appeared in a new game since 2010's Mega Man 10. He didn't even make the cut in Marvel vs Capcom 3 or its Ultimate update.
But don't tell that to Christian Svensson, Capcom USA's Senior Vice President. He told Nintendo Power (via Rockman Corner) that the company definitely isn't done with Mega Man just yet…
Nintendo Power: What does the future hold for Mega Man?

Christian Svensson: I can say with certainty that you've not seen the last of the Blue Bomber on consoles and handhelds, and, with luck, we'll be celebrating his 50th anniversary, including all of the games you're going to enjoy over the next 25 years. That said, an issue we've had in the past has been talking about games and announcing them before we're certain they're going to come out, which unfortunately has lead to profound disappointment for many fans. So for now, I'm going to have to stay mum about any details.
Encouraging news, but bear in mind, this statement is coming from a Capcom USA executive. Regardless of what Svensson says, we really don't have any idea what Capcom Japan has planned for Mega Man's future.