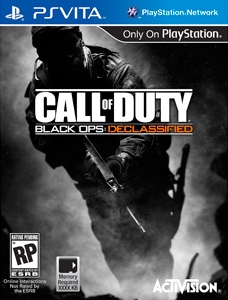 Yesterday was Tuesday, and as always, Sony has posted this week's update to the PlayStation Store for your shopping pleasure. Here's what PS3 and Vita players can look forward to this week:
The Vita-exclusive Call of Duty: Black Ops Declassified leads this week's new releases. Activision's portable military shooter is joined by Colors!, a new painting app for your Vita.
There are two new additions to the PS3 side of things: Namco Bandai's Tekken Tag Tournament 2 and an ala carte version of SingStar. Players who want to brush up on their karaoke skills can download the free SingStar client (which includes several demo songs) and then fill their hard drives with only the songs they want.
Finally, a pair of PSN titles round out this week's batch of new releases. Wicked Monster Blast! HD is a shooting gallery for your PlayStation Move controller (though it also works with a DualShock 3) and Planets Under Attack is a strategy game that features intergalactic warfare. Take that, Call of Duty!
More details on all of this week's new releases can be found after the break and a complete list of the latest game add-ons can be found at the PlayStation Blog.
PS3 Full Games
Tekken Tag Tournament 2 ($49.99)
WE ARE TEKKEN!
SingStar Digital ($0.00)
Battle it out with friends and family in SingStar, the ultimate competitive singing game featuring your favorite artists' music and videos. Choose from thousands of songs in the SingStore and join the community to share your performances and view amazing videos and photos. New to SingStar? Start your party right now by downloading your free demo songs!
PSN Games
Wicked Monster Blast! HD ($9.99)
Wicked Monsters Blast for is an exciting family fun shooting gallery game for all ages – use the PlayStation Move motion controller or DualShock 3 wireless controller to blast enemies and solve puzzles and choose your favourite character from a cast of crazy characters to take on 15 crazy mini games and 20 levels of challenge mode with up to 4 of your friends!
Planets Under Attack ($14.99)
Planets Under Attack is a fast and fun strategy game, easy to understand and to control, offering dozens of hours of tactical fun: Campaign consisting of 32 levels and multiple game modes. Epic boss battles and Incredible alien foes. Powerful techs to improve your strategies. Online and offline Multiplayer for up to 4 players. Team multiplayer. 2 playable races.
PS Vita Games
Call of Duty: Black Ops Declassified ($49.99)
Before the future could be won, history had to be written. Call of Duty Black Ops: Declassified explores original fiction in the Call of Duty Black Ops universe with an all-new campaign of Special Ops missions. Optimized for gamers on-the-go, Call of Duty Black Ops: Declassified delivers the most intense handheld Call of Duty experience to date.
Colors! ($6.99)
Colors! is a simple yet robust painting application combining ease of use and powerful painting tools. Based on modern painting techniques originally developed for professional drawing tablets, Colors! is tailored for touch screen devices, and caters to everyone from serious artists to aimless doodlers. Whether you are looking for doing doodles, sketching or painting, Colors! is the perfect mobile sketchbook.