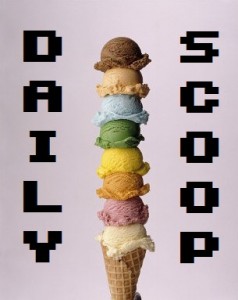 It's the last day of November, and if you're on Facebook or Twitter, you probably saw a lot of posts about what people were grateful for every day. I enjoyed reading everything my friends had to say, and at times even felt a little wistful. What were you the most grateful for, this final month on Earth before the world ends? I know I was grateful for family, friends, my kitties, video games, writing, and the love of my life, Anthony.
Too cheesy? Maybe too cheesy.
What's up with sales for today? Well, Amazon's got a few more featured deals for you, with Diablo III going down a few more dollars to $27.99, as well as Dark Souls on sale for $15.99. I'm really tempted to scoop that one up myself!
No t-shirts today – sorry, folks! My wallet isn't, though. :) Go forth and spend that money on fun this weekend instead!