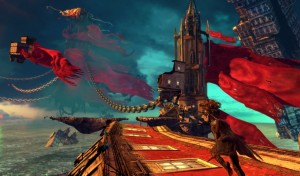 Capcom has announced that a demo of DMC: Devil May Cry will be available to download from the PlayStation Store and Xbox Live Marketplace next week.
The demo, which will contain two levels and a boss battle, will be available in North America on November 20 and in Europe on November 21. Players who download the demo will get a taste of "a few of the game's difficulty modes," as well as the remixed Son of Sparda mode (which requires completion of the demo to unlock). A variety of weapon upgrades and "maybe a few secrets" also await those who test out Dante's next adventure.
The full version of DMC: Devil May Cry will be released for the PS3 and Xbox 360 on January 15, 2013. A PC version will follow sometime later in the year.