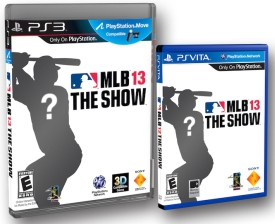 The season may have just ended a few weeks ago, but are you ready to play ball in 2013? Sony hopes so as the publisher announced today that MLB 13: The Show will be released for the PS3 and Vita on March 5, 2013.
In previous years, the franchise has employed David Ortiz, Dustin Pedroia, David Wright, Ryan Howard, Joe Mauer, and Adrian Gonzalez as cover athletes. For MLB 13, Sony has decided to pull an EA and use a "Cover Campaign" to decide the game's spokesman. The voting will begin shortly after January 1st.
Sony and their San Diego Studio plan to add a bunch of new features to MLB 13: The Show as well as revamp some old favorites. Here's what they're willing to share so far:
Nothing compares to Postseason baseball. That's why The Show offers an All-New Playoff Mode, which includes an in-stadium atmosphere that replicates the excitement and tension of October baseball. The experience is unrivalled by anything The Show has ever exhibited.

Other new features include a completely new beginner mode and instructional enhancements that make The Show the best pick-up and play baseball experience available. In addition, the improved Play Now mode streamlines gameplay, for faster and simpler games. San Diego Studios has also revamped The Show's Franchise and Road To The Show modes with expanded options and new gameplay experiences.
Remember, it's only 77 days until pitchers and catchers report.