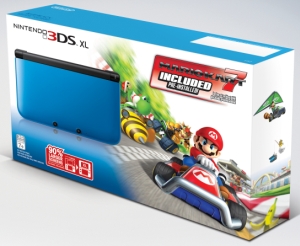 Shoppers looking for a 3DS XL this holiday season will have another option beginning December 2 as Nintendo has announced the handheld will also be offered as a special Mario Kart 7 bundle.
The Blue/Black 3DS XL will retail for $199.99 and come with a copy of Mario Kart 7 pre-installed on the system. The basic 3DS XL pack also retails for $199.99, so you're essentially getting Mario Kart 7 for free.
As long as you don't get Blue Shelled when you're first in the checkout line.