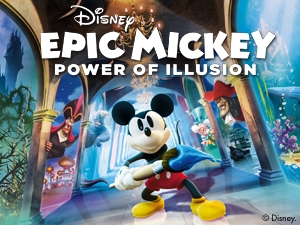 For the final pre-Wii U update to the Nintendo Download, the publisher has decided to put a heavy focus on 3DS titles, including this Sunday's Epic Mickey: Power of Illusion.
If a Mickey sidescroller doesn't thrill you, several other previously retail-only 3DS games are available to download today. They include movie tie-in Hotel Transylvania, brain trainer American Mensa Academy, and the ultimate adventure game, Myst. The 3DS eShop-exclusive Monster Shooter is also available today.
Two new additions have also made their way to the DSiWare Shop. There's the N-like platformer Jump Trials and the puzzler Working Dawgs: A-Maze-ing Pipes.
More information on all of these games can be found after the break.
Epic Mickey: Power of Illusion (3DS eShop) – Master the Power of Illusion! Players will take on the role of Mickey Mouse as he uses his brush to wield paint and thinner to save the Toons.
Hotel Transylvania (3DS eShop) – Dracula has invited all of your favorite monsters to his hotel to celebrate his daughter's 118th birthday. When Johnny shows up he finds himself in the wrong place at the wrong time as a human in a hotel for Monsters. It's your job to save and protect Johnny from the monsters who are staying at the hotel. Hotel Transylvania is also available at retail stores.
Monster Shooter (3DS eShop) – Monster Shooter is the new top-down action shooter from Gamelion. This is the first shooter game that gives the experience of full monster mayhem to both casual players and alien exterminators alike. Follow the epic chase in story mode, or take your chances in survival of the fittest. Master different means of annihilation with shotguns, plasma rifles, electricity guns, grenades, rocket launchers and even a NUKE! Earn Monster Cash and visit the shop to get upgrades and new guns. Use lots of different perks that will improve your speed and rate of fire and make you unstoppable.
Myst (3DS eShop) – It's more than a game. It's a journey. And now the journey is enhanced in 3D for even greater immersion into the fantastic adventure of Myst.
American Mensa Academy (3DS eShop) – American Mensa Academy provides genuine American Mensa questions so you can find your true American Mensa score!
Jump Trials (DSiWare) – Test your running and jumping skills to the limit in a 10 second race!
Working Dawgs: A-Maze-ing Pipes (DSiWare) – Set on the construction site of the Working Dawgs, players will need to work quickly and efficiently to complete the challenging pipe puzzles before time runs out.