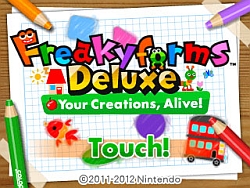 Today's Thursday and that means another round of Nintendo downloads:
2 Fast 4 Gnomz (3DS eShop) – Four brave gnomes venture on a journey so epic, they don't even know where they're going. Join Bumb, Berzerk, Speedster and Uncle Time as they run, fly, bounce, glide and break their way through the magical lands of Gnomia to reach their mysterious destiny.
Spot It! Mean Machines (DSiWare) – In "Spot It! Mean Machines", players race the clock to find the hidden objects in cleverly arranged scenes. The puzzles are based on the popular "Spot-It!" book series published by Capstone Press. See how many objects you can spot in 10 different puzzles. Vibrant graphics make spotting objects fun and challenging.
Cake Ninja 2 (DSiWare) – Slice and dice cakes.
Nintendo also plans to add Freakyforms Deluxe: Your Creations, Alive! to the 3DS eShop (and retail store shelves) on Monday, November 5…
Freakyforms Deluxe: Your Creations, Alive! (3DS eShop) – Create wacky creatures called "formees" and bring them to life on your Nintendo 3DS system to populate your very own planet. Choose from more than 600 different forms to complete your creation. The choices you make will determine what abilities your formee will have and how it will move around the world.