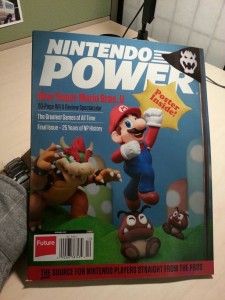 The final issue of Nintendo Power's nearly quarter-century-long run is being delivered to subscribers now. It's even possible to say that it's the end of an era. Thankfully, Nintendo is sending their beloved official magazine off with a rather fitting tribute.
A Reddit user has posted a picture of the final cover and the claymation figures depicting a key moment in New Super Mario Bros. U that bears an uncanny resemblance to the cover of the first issue.
Yup, this is definitely the end of an era. Also, these tears running down my face are because of allergies. Yup, definitely allergies.