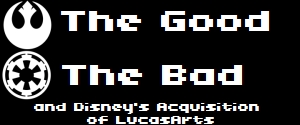 On Tuesday, October 30, The Walt Disney Company purchased Lucasfilm from George Lucas. This multibillion dollar deal included all rights to the Star Wars and Indiana Jones franchises, as well as the subsidiary companies Industrial Light + Magic, Skywalker Sound, and LucasArts.
In the same announcement, Disney confirmed that Star Wars: Episode VII was in development and would be released in theaters in 2015. The Internet (and quite possibly the world) was in utter disbelief. You might say that millions of voices suddenly cried out in confusion and were suddenly silenced in stunned shock.
But that silence didn't last long as the speculation concerning Episode VII and what this means for the Star Wars franchise began almost immediately. And that's where we come in, as two Warp Zoned staffers debate exactly what this merging means for Lucasfilm's game development arm, LucasArts.

Well, I think The Force is strong with this one.
How many really quality Star Wars video games have we gotten in the past decade, versus how many released? I can think of Knights of the Old Republic, Battlefront, and the Lego Star Wars games. The Force Unleashed was a good game, but it wasn't amazing. On the other hand, you have a bevy of mediocre games based on Lucas' properties. The Clone Wars games? Kinect Star Wars? And that's just from the Star Wars universe – I'm not going to mention LucasArts properties such as Indiana Jones and the Staff of Kings and Fracture. Oh wait, I just did. Now, I'm not saying that Disney will be able to churn out nothing but masterpieces, but they certainly can't do much worse.
The possibilities don't just end with Star Wars-specific titles, though – think of the crossovers. What if we saw Darth Vader in a Kingdom Hearts title? How cool would that be? Or, for example, an entire Star Wars level in Disney Universe (which is a pretty good game, by the way)? I certainly hope the suits at Disney know how devoted the Star Wars fan base is, and will take great care and dedication to making sure the games they release are of the utmost quality. Point being, I am optimistic about the next Disney-published Star Wars game, and I suggest you feel the same. No point in grabbing our torches and pitchforks when we haven't even seen what's in the works yet. If Disney's first offering is a Jar Jar Binks minigame collection, then we can riot.

Disney's acquisition of Lucasfilm will likely turn out to be a good thing for the Star Wars franchise as a whole, but I'm not left with much hope for LucasArts after two statements concerning the buyout.
Disney CEO Robert Iger told investors that he plans to focus most of LucasArts' development staff on social and mobile games over the long run. When it comes to future Star Wars games on consoles or the PC, the House of Mouse plans to license the characters to a third-party publisher, much like they're doing with their Marvel titles.
So what does this mean for current projects like Star Wars 1313? Speaking to Polygon, a LucasArts representative said, "For the time being all projects are business as usual. We are excited about all the possibilities that Disney brings." That does not exactly sound like a ringing endorsement for the future. And aside from Iger's comments, Disney has been completely silent on the future of LucasArts or the stable of non-Star Wars properties it controls.
Ultimately, I believe this is because Disney just doesn't understand the video game business. Their Disney Interactive publishing arm was initally launched in 1988 and would eventually be shut down and relaunched twice before becoming the Disney Interactive we know it as today. But even though they've been in the game business for almost 25 years, their internal development teams have not benefited from this experience. Warren Spector's Junction Point is hard at work on Epic Mickey 2, but Black Rock Studios (Split Second) and Propaganda Games (Turok) have both been closed down. Meanwhile, Avalanche Software still officially exists, but they've gotten out of game development.
And to bring this full circle, Disney's final in-house team, Wideload Games, focuses exclusively on social and mobile games. As a wise man once said, "I've got a bad feeling about this."

Well, as a much wiser muppet said, "Fear is the path to the dark side." Don't completely discount Disney based on their history. Case in point: upcoming 3DS game Epic Mickey: Power of Illusion. Disney farmed that game out to Dream Rift, which, in my opinion, is a great choice. Dream Rift's DS game Monster Tale is a fantastic title, and one of my favorites on the handheld. Disney can make the right decisions on who can make their games; let's just hope that they DO make those decisions.
And just because Disney makes social and mobile games doesn't necessarily mean that they will solely focus on social and mobile games. Sega just released Sonic Jump, a mobile game. Is Sega going to stop making traditional Sonic games? Not likely. I'm sure we'll see Star Wars games made for the hardcore gamer, but I do feel that those will be few and far between.
Regardless, Star Wars is in Disney's hands, and now it's up to them to do right by the franchise. I'm hoping for the best, but preparing for the worst.

You're right, it's unlikely that Disney would focus all of LucasArts' future efforts on social and mobile gaming. I think Zynga's financial woes have shown the industry that gamers aren't ready to give up their blockbuster console games just yet. But LucasArts was just a throw-in for Disney; their main goal was to obtain Lucasfilm. And I think it's very likely that they don't even know what they have in LucasArts.
Do they know about the developer's back catalog of classic adventure games like Grim Fandango, Monkey Island, and Maniac Mansion? Do they know that The Force Unleashed II ended on a massive cliffhanger? Do they know that fanboys have been clamoring for Battlefront 3 for ages?
Time will tell, of course, as always in motion the future is.