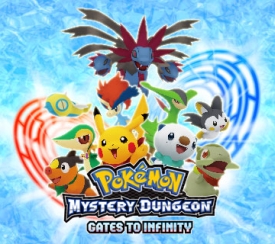 Those lovable Pokemon will invade the 3DS next year in Pokemon Mystery Dungeon: Gates to Infinity, the latest game in Nintendo's long-running franchise.
Scheduled for release on March 24, Gates to Infinity will let players take control of their favorite Pokemon (Pikachu, Snivy, Oshawott, Tepig or Axew) and "journey through infinite dungeons, battle and befriend other Pokémon, collect treasures and explore the game's vast, beautiful world."
It sounds pretty similar to every previous Pokemon Mystery Dungeon game, but this rendition will also include "Magnagates" that can only be accessed by scanning a circular object in the real world with the 3DS Camera and a multiplayer mode.
Nintendo has promised to reveal more details on the multiplayer mode soon.