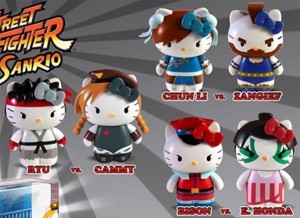 Do you love Street Fighter? Do you also love Hello Kitty? Do you love Street Fighter and Hello Kitty enough that you really want to see them mashed up in a new series of toys?
Then great! You'll probably want to check this out…
Capcom and Sanrio have expanded their Sanrio X Street Fighter line of products to include PVC figures, plush toys, and coin purses. These items should be available at your favorite toy retailer soon and Capcom's Capcom Unity blog has a few more pictures.
Final note… Plush Hello Kitty Bison is pretty awesome.