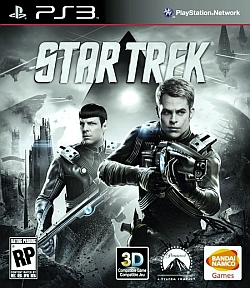 A few months before Benedict Cumberbatch takes on the crew of the Enterprise, we'll all get a chance to control Captain Kirk and Mr. Spock in Namco Bandai's Star Trek for the PC, PS3, and Xbox 360. Today, the publisher has confirmed that the game will be available in stores on April 23, 2013.
They've also announced that players who pre-order Star Trek will obtain the "Elite Officer Pack," a downloadable bonus that includes ten costumes from the first movie as well as three additional weapons (Starfleet Type IV Stealth Sniper Rifle, U.S.S. Kelvin Hand Phaser, and Academy Phaser). The costumes will include "Stealth" uniforms, Kirk in a leather jacket, U.S.S. Kelvin uniforms, Academy uniforms, and Kobayashi Maru uniforms.
One of those is not like the others.