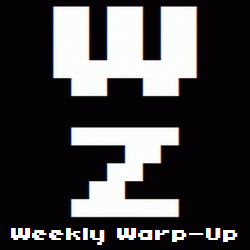 No, that's not a typo. Welcome to the Weekly Warp-Up, your weekly wrap-up of the biggest and the best articles posted at Warp Zoned this week…
I don't want to say that the Spike TV Video Game Awards have finally become a good showcase for the game industry, but I think they've reached the point where they're no longer an embarassing one. The two-hour runtime was still mostly filled with "World Premiere" trailers (read: commercials) and the class of celebrity they trot out usually doesn't have much to do with gaming or geekiness, but they're trying. Look no further than this year's Game of the Year selection, The Walking Dead, a point-and-click adventure.
Of course, the true highlight, as always, was those "World Premiere" trailers. This year, we got our first glimpse at The Phantom Pain, an intense action game that may or may not be related to the still-shrouded-in-mystery Metal Gear Solid 5. Personally, I think the dragon we saw at the end of the trailer puts the kibosh on that theory. But you never know with Hideo Kojima.
We also got new trailers for The Last of Us, Tomb Raider, BioShock Infinite, South Park: The Stick of Truth, Castlevania: Lords of Shadow 2, Gears of War: Judgment, and Halo 4's Spartan Ops campaign. Assassin's Creed III: The Tyranny of King Washington made its debut in trailer form and Dark Souls II was announced to the shock of everyone.
One 2013 game that didn't make an appearance at the show was Ni No Kuni: Wrath of the White Witch. But we're so excited for the Studio Ghibli/Level-5 mashup that we just couldn't wait to reveal our hands-on impressions.
Hit the jump for more news from this past week, none of which happened at the Spike TV Video Game Awards.
The Week in Reviews…
The Week in New Games…
Amazing Paperboy Delivers…
It's A Secret To Everybody…
And Finally…
Here's a quick look at "What We Played in November 2012" and "The Games of December 2012" we're looking forward to.