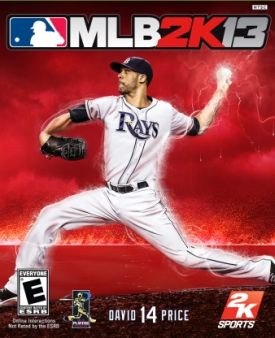 Like a pitcher with a perfect pickoff move, 2K Sports waited until the last possible second to announce Major League Baseball 2K13. But that's just what they've done, confirming that a new deal with the MLB and the Player's Association will allow MLB 2K13 to be available for the PS3 and Xbox 360 on March 5, 2013. David Price, the American League Cy Young Award-winning pitcher for the Tampa Bay Rays, has been selected to appear on the cover.
"We'd like to thank our league partners for their support in helping us reach an agreement to bring back Major League Baseball 2K," said Jason Argent, Vice President of Marketing for 2K Sports.
2K will also bring back their popular (but controversial) Perfect Game Challenge. For 2013, the publisher plans to introduce a new format for the contest, which they'll announce at a later date.
But, following up on the pickoff metaphor, it remains to be seen if this latest iteration in the simulation series will be a precision strike or an errant throw that sails wildly off the mark.