If you had told me a few weeks ago that a game about sorting luggage for an airport was addictively fun, I wouldn't have believed you. But now that I've played Aero Porter for hours without being able to put it down, I fully understand how much fun it can be. Level-5's luggage-sorting game, downloadable from the 3DS eShop, is quick and easy, yet also challenging. A collaboration between Level-5 and designer Yoot Saito, Aero Porter is one of those simple-to-learn, hard-to-master puzzle games, in which you must at first separate luggage by color, and then later work around the added complications the game throws at you. Is this tiny game worth the $4.99 price tag?
Platforms: 3DS
Publisher: Level-5
Developer: Level-5, Vivarium
Genre: Traveling Puzzler
Release Date: November 29, 2012
ESRB Rating: Everyone

Aero Porter starts out easily enough: you have luggage that is color-coded, and must be sorted into the correct plane. Your manager, Bob Saito, walks you through the tutorial. Luggage is loaded onto the carousels, and as planes arrive at the carousels, they turn a specific color, to match the luggage being loaded. Using the L and R buttons, you can lift and lower the luggage between carousels. But all of the carousels move at the same time, so if you're not careful, you'll move around luggage you didn't mean to move at all. And did I mention each plane is on a timer?
As soon as you have the matching color luggage on a carousel, you can load it onto the plane. You can wait until you've got all of it, or load it one piece at a time. If you load multiple planes in quick succession, you get a combo bonus, which helps you to progress to other levels. The early levels are easy and addictively fun as you try to simply sort the luggage as quickly as possible.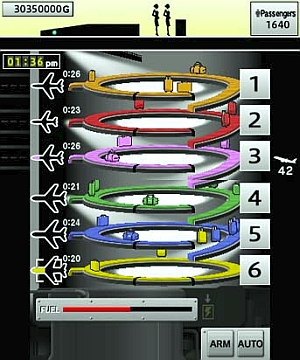 As you get promotions and your airport grows larger, you serve more passengers, and more carousels are added, which adds in complications. Now you have to pay close attention to the fuel, which runs the carousels (including their speed, which you can later adjust to be faster or slower) and the lights. If you start to run out of fuel, you can request a fuel cell, which you must maneuver to the very bottom carousel and then drop down below to load it up. But be careful not to load it onto a plane, or drop anyone's luggage down and lose it!
There are also moments when you must load a VIP's luggage on before anyone else's, or watch for a person's luggage by tag color and not the color of their actual luggage. These can be tricky, and can slow you down as you try to juggle too many things at once. Oh, and there are also times when you'll have to put suspicious luggage onto a van before it explodes!
Loading luggage onto the wrong plane, or not loading the luggage before the flight leaves, results in penalties to your final score. Your overall score is based on pleasing your customers, especially the ones who are very important. If you don't gain their favor, you can never be promoted all the way. You gain and lose money according to how well the airport runs, so your entire financial situation depends on your successes and failures at work. Seems like a stressful job!
After you've unlocked enough levels, you can create your own plane that can be picked up by other people via StreetPass. Your plane will be available at their airport, and theirs will be available at your airport. You can summon the plane back afterwards. I was hoping for more from this part of the game, which only unlocks after you've reached international airport status, but other than customizing your plane and sending it off, there's not too much to it.
Aero Porter is a delightfully addictive puzzle game that is a great addition to your 3DS library. It's an easy game to pick up when you're bored, and will help a boring trip or a grueling wait in a doctor's office fly by before you know it. Manager Bob Saito tells you as anticlimactically as possible when you've finally beaten the game, but that won't stop you from working hard to try to best your high score. Aero Porter is definitely worth $4.99, with the only downfall being you might not notice when your battery is running out.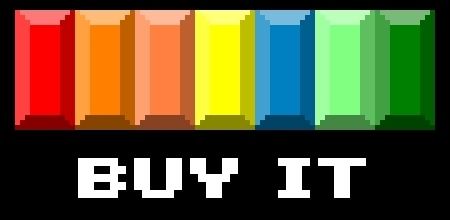 Review Disclosure: A review copy of Aero Porter was provided by Level-5 for the purposes of this review.