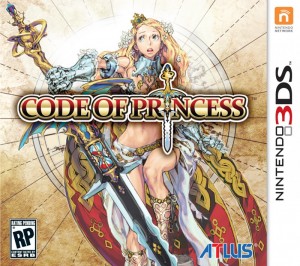 This week's Nintendo Download is all about the 3DS as a pair of RPGs, a side-scrolling cowboy adventure, and a new take on the greatest game you can play on a table full of holes were added to the 3DS eShop today.
The pair of RPGs include XSEED's Unchained Blades and Atlus's Code of Princess. Both promise to scratch that JRPG itch that a lot of 3DS gamers have and players are no longer required to go hunting through the stacks of boxes at their local game retailer in hopes of finding a copy.
Also available on the 3DS eShop this week is Gunman Clive, a side-scrolling Western adventure that promises "a unique artstyle." Rounding out the new releases is Air Battle Hockey 3D, am air hockey game that puts air hockey inside of a tube.
Rounding out this week's new additions are two DSiWare games: the vertical-scrolling shooter Galaxy Saver and the extreme snowboarding of Snowboard Xtreme (bet you didn't see that one coming).
More information on all of these titles can be found after the break.
3DS eShop
Unchained Blades –
Though Fang is already renowned as the ruthless and feared Dragon Emperor, his lust for strength brings him to the doorsteps of the great Goddess Clunea. When he arrogantly demands that she find him a fitting opponent to defeat, the offended creator banishes him to crawl upon the ground in a weakened state. Now Fang must traverse dangerous living temples of the Goddess' creation, known as Titans, in order to meet his maker once again and exact his revenge. But he cannot do it alone…
Code of Princess – Blending fighting gameplay with components from classic arcade side-scrolling beat 'em ups and the character development of an RPG, Code of Princess perfectly combines the two genres, giving hardcore gamers an all new twist on some of their favorite game types. Up to four players can take on challenges cooperatively or battle against one another in competitive play.
Gunman Clive – Jump and shoot your way across diverse and challenging levels and fight massive bosses. Gunman Clive is an old-school sidescrolling platform game set in the old west with full 3D graphics and a unique artstyle. Bring out your inner cowboy and get ready for some real gunslinger action.
Air Battle Hockey 3D – Take the basic concept of air hockey mix with competitive elements and finish with a whole new dimension.
DSiWare Shop
Galaxy Saver – Take on wave after wave of invader attacks as you protect the mothership from 360 degrees of enemy bombardment. Circle around the mothership to form a perimeter, blasting the incoming alien ships with guns and missiles as they swarm in from all directions. Blast everything in sight as the aliens attack with rush attacks, stealth attacks, swarms, and tracker beams, surrounding you from all directions.
Snowboard Xtreme – Plough through the snow in extremely dangerous settings!