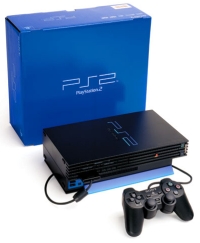 It's official: Sony has ceased the manufacture of new PlayStation 2 consoles for all territories. After 12 years, over 150 million consoles sold, and 10,828 games released (counting re-releases and international versions), the PS2 has earned a well-deserved place among the greatest game systems of all time.
The PlayStation 2 dominated the sixth generation of consoles, ultimately selling more than twice as many systems as the GameCube, Xbox, and Dreamcast combined. The console's reach will surely extend far into the future, as dozens of PS2 games are regularly featured on lists of the best games of all time including Grand Theft Auto III, God of War, Shadow of the Colossus, and Metal Gear Solid 2: Sons of Liberty.
According to the latest industry rumors, Sony plans to announce the PlayStation 4 at this year's E3 Expo. But for now, let's remember the PlayStation 2's amazing run. It's likely the last time a console will dominate its competition like the PS2 did ever again.
[Source: The Guardian]