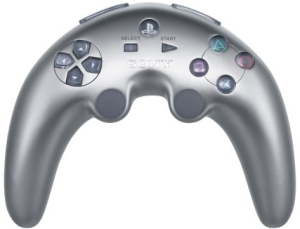 The infamous boomerang controller Sony debuted alongside the PlayStation 3 certainly would have been different than the company's previous controllers, the Super NES-inspired DualShock and DualShock 2. Instead, that controller was tossed aside in favor of the similarly-designed SixAxis/DualShock 3. It'd be safe to assume Sony is planning something similar for the PlayStation 4/Orbis, but if a recent CVG report is to be believed, we may be in for something new.
According to CVG's inside sources, Sony is heaviliy prototyping a variety of different designs for the PS4 including a controller with biometric grips and another with an LCD touchscreen (because Sony can't launch a new system without ripping something off from Nintendo). Other rumors point to a more integrated PS4/Vita solution. It's been said before, but perhaps Sony wants to make the Vita the PS4's official controller.
Whatever happens, CVG reasons that it's likely the DualShock 3 will be compatible with the PS4/Orbis.