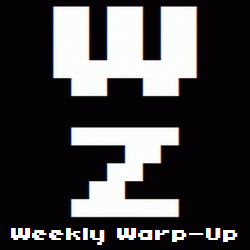 No, that's not a typo. Welcome to the Weekly Warp-Up, your weekly wrap-up of the biggest and the best articles posted at Warp Zoned this week…
It's hard to witness the demise of one video game company while another lays out a two-year plan for their latest console.
As of this week, THQ is no more. The popular publisher finally ran out of greenback gas as their internal studios and many of their biggest franchises were auctioned off to the highest bidder this week. The results were more than a little surprising. Crytek paid a pittance for the rights to Homefront (the team was already developing Homefront 2) while Sega spent big to obtain Relic Entertainment and Company of Heroes 2. But the two biggest surprises have to be mid-range publisher Deep Silver's acquisition of Volition (and Saints Row 4) and Metro: Last Light and no one's interest in Vigil (and Darksiders). THQ closed their office doors for good on Friday.
While this tragedy was unfolding, Nintendo was riding high off a bonanza of new Nintendo Direct announcements. The consolemaker mapped out the Wii U's future in amazingly frank detail, announcing a new 3D Mario game, Mario Kart Wii U, The Legend of Zelda: The Wind Waker HD, Super Smash Bros. 4's E3 debut, Monolith Soft's next RPG, a radically reconstituted new Zelda game, Yoshi's Epic Yarn, and Shin Megami Tensei X Fire Emblem. Did they even bother to save any surprises for E3?
Oh, and before all of this happened, Atari filed for bankruptcy. Again.
There's more news after the break, but I'm already exhausted.
The Week in Reviews…
The Week in New Games…
Amazing Paperboy Delivers…
And Finally…
After at least a year in production, Frank Darabont's L.A. Noir has been forced to change its name by Rockstar Games. I'm not a lawyer or anything, but it really took someone a year to realize it was a bad idea to give a TV show the same name as an unrelated game?