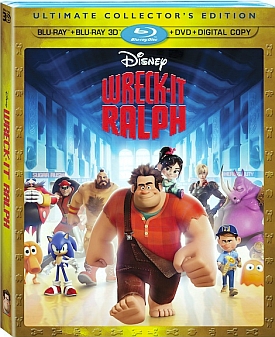 Disney's Wreck-It Ralph has been praised by gamers and non-gamers alike for its loving tribute to gaming's 8-bit days. While the film is still enjoying a very successful theatrical run, Disney has announced that it'll be available as a digital download and on Blu-ray and DVD soon.
In a first for the company, Wreck-It Ralph will be available to download digitally more than a month before it's Blu-ray/DVD counterpart. If downloading movies from iTunes or Amazon Video is your thing, you'll be able to own Wreck-It Ralph on February 12.
However, if you'd prefer to wait for the Blu-ray/DVD, it'll be released on March 5 in three different packages:
Ultimate Collector's Edition ($49.99): Blu-ray 3D, Blu-ray, DVD, Digital Copy + Special Features
Collector's Edition ($39.99): Blu-ray, DVD + Special Features
DVD Edition ($29.99): DVD + Special Features
Each version of the film will come packed with a variety of special features, including the Paperman short film that played before Wreck-It Ralph in theaters. You can read up on all the special features after the break.
Blu-ray Bonus Content

Bit by Bit: Creating the Worlds of Wreck-It Ralph – Fans of the film will get a look at five new worlds created for Wreck-It Ralph. The short takes viewers into Game Central Station with the artists who brought Sugar Rush, Hero's Duty and Fix It Felix Jr. to life.
Alternate & Deleted Scenes – Four separate scenes are highlighted with an introduction and optional audio commentary from director Rich Moore.
Video Game Commercials – Viewers can check out the commercials created for the video games featured in the film – Fix It Felix Jr., Sugar Rush, Hero's Duty and Fix It Felix Hammer.

Disney Intermission: The Gamer's Guide to Wreck-It-Ralph – When the film is paused, host Chris Hardwick appears on screen to guide viewers through a series of 10 video segments offering an inside look at the many video game references, Disney references and other hidden surprises featured in the film.
"Paperman" – This animated short film played in theaters before "Wreck It Ralph." It tells the story of a young man in an office who sees the girl of his dreams in a skyscraper window across the street. But how can he get her attention? (Also included on DVD Version)