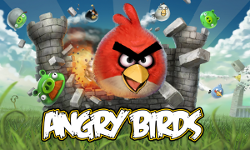 The Angry Birds fly high regardless of what platform they're on. Activision has revealed that their HD compilation of the first three games, Angry Birds Trilogy, has "soared" past one million copies sold worldwide. The 3DS, PS3, and Xbox 360 game was originally released in September. To celebrate (and in a quest for more money), Activision and Rovio have announced that Angry Birds Trilogy will be released on the Wii U and the Wii by the end of the year.
"It was certainly satisfying to see Angry Birds gameplay adapt so well to other platforms in 2012," said Petri Jarvilehto, Executive Vice President of Games for Rovio. "The features specific to the Wii U are very intriguing to us, so we're excited to release this version to fans."
Those Wii U-specific features will likely involve the use of the Wii U GamePad to fling birds at those crafty swine.