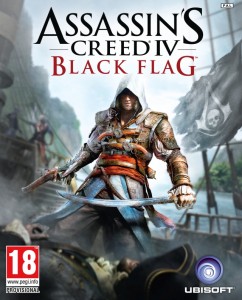 Yarr! Ubisoft has opened their treasure chest and confirmed that Assassin's Creed IV: Black Flag will be the next game in the series. All we've got to go on right now is the official boxart seen to your right (click to enlarge), but check out the awesome Assassin insignia/Jolly Roger pirate flag.
Assassin's Creed IV: Black Flag will be available for the PC, PS3, Wii U, and Xbox 360. Just like Assassin's Creed III, the PS3 version of the game will include exclusive content. For Black Flag, Ubisoft is producing a PS3 version that includes "60 minutes of exclusive gameplay."
It's unknown if the game will be coming to the PS4 or the (soon-to-be-announced) Xbox 720, but I'd say it's a fair bet. This is Ubisoft we're talking about, after all.