Hitman set to furiously return to film in rebooted "Agent 47"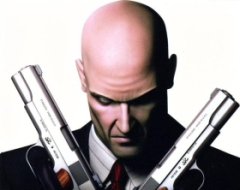 When the last Hitman film debuted six years ago, it left such a sour taste in moviegoer's mouths that the franchise's fate seemed as sealed as a stone tomb housing a rotting corpse. However, the powers that be at Fox International Productions have decided to give it another try with a rebooted film, Agent 47. Working from a script by Skip Woods, the writer of the original mess, they have opted to cast the blue-eyed Paul Walker as Agent 47, most famous for the Fast and the Furious series.
There is nothing wrong, per se, with Walker's casting. He is a bankable name, but he is not bald. Timothy Olyphant, the original celluloid star, looked plain wrong with a shaved dome, and it was a massive misstep in his otherwise distinguished career. Why not cast Vin Diesel, Walker's regular shaven-headed Fast and Furious co-star, someone who is possibly born to play Agent 47? In any case, once Walker is finished with his PR commitments to Fast and Furious 6, he will be shaving his scalp and donning the red tie. Only time will tell if the new film is able to wash away the memories of the original.
[Source: Deadline]
It's Dangerous To Go Alone! Read This.
A Commenter Is You!