Hello and welcome to the first Kickstart This! of 2013. A new year brings us new projects that we can help push from the planning stages to a grateful reality by offering donations in exchange for credits, goodies, and whatever oddities these humble game designers can dream up. This month we have the nomadic turn-based strategy game Unwritten, fantasy MMORPG Oceania, cuter-than-cute dungeon adventure Monsters Ate My Birthday Cake, evolutionary RPG Wildman, hectic sci-fi shooter Defend the Fawkin Station, and last, but by no means least, puzzle strategy game Pixel Kingdom.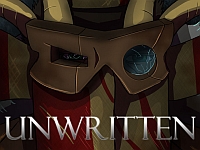 Unwritten
Unwritten: That Which Happened sees the player guiding a tribe across the hexagonal nomadic plains on a journey to try and meet their chosen deity at the far-off God Mountain. The one-way journey will take generations, and so your tribe grows, faces dangers, and passes down stories of legend.
Roxlou Games is not interested in creating another turn-based strategy game, though; the company wishes to explore the rich legacy of storytelling that is inherent in all fabrics of society. Woven into that idea is that the choices you make affect the story of your own tribe, where death is permanent and decisions can make or break trading agreements with other clans. Random maps and enemies mean that you are never going to play the same game twice, while the artwork has hints of one of its inspirations, Sid Meier's Civilisation series.
Seeking out the healthy sum of $75,000, the rewards range from a digital copy of the game and soundtrack for a $15 donation, to the more extravagant gifts of signed posters ($150) and having your face silhouette and name used within the game itself ($250). For the wealthy among you, for $5,000 nets you all of this plus any future games made by Roxlou, as well as being credited as "Patron" (limited to 5 people).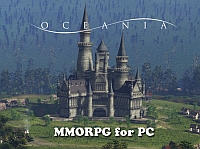 Oceania
Rendered in gorgeous 3D, this MMORPG looks like a cross between Waterworld and Jonathan Swift's Gulliver's Travels, with beautifully rendered flying islands hovering over the titular ocean world. Two races, humans and elves, dominate the lands, challenging one another as new lands emerge from the sea and float up into the clouds, while other creatures exist under the seas and hidden in the shadows.
Digital Engine is hoping to draw players in with its unconventional approach to the MMORPG genre. Your character will not be forced to commit to one class for the entire game, but rather can flirt with different archetypes by enhancing various skillsets. The same is true of the clans and guilds, where you are free to join and leave, regardless of race. Add to this the ability to add your own objects into the game (and charge for them if you so wish), and Oceania seems to be on track to be a swimmingly good game.
The company is asking for $100,000 in order to finish and polish the bulk core of the game that it has completed through self-funding. For the smaller donations of $15 and $25, you will receive either invitations to the beta trials or a free copy of the game. For more money you receive more goodies, such as t-shirts, wallpapers and soundtracks, while pledges of $10,000 or more will receive a special vampire character to play in the game, and a premium account for three months.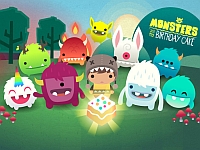 Monsters Ate My Birthday Cake
What do you get if you take The Legend of Zelda: A Link To The Past, a beautiful Super Mario World-esque map, and make it utterly, adorably, Japanese-pop-culture cute? Monsters Ate My Birthday Cake! The game (with perhaps the best title ever) is the product of Sleep Ninja Games, led by Justin Baldwin. He has stated that it is the company's aim to create something that conjures the nostalgic feel of gaming from before the days of the Internet. In addition to the eye-wateringly gorgeous graphics, Sleep Ninja has secured the musical talents of Disasterpeace, who some of you may have heard when listening to the soundtracks of such games as Shoot Many Robots and Drawn to Life: The Next Chapter.
While most of the game has been self-funded, Sleep Ninja requires additional finances in order to pay for licensing, a proper music budget, testing and marketing, adding up to the very modest $15,000. For a mere $5 or $10 donation you get the full game for iPhone/iPad or Mac and PC, while the middle tiers of $50 to $200 will see you gifted with amazing figurines, t-shirts, digital art book and soundtrack. The highest donation of $1000 or more, where you were given the chance to create your own monster, has already been snapped up, but for $500 you will get all the goodies mentioned and name one of the five monster merchants within the game.
They had me at CAKE!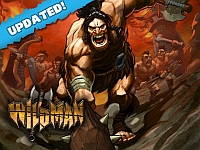 Wildman
We go from cheap and cheerful to Hollywood epic next, with Gas Powered Games seeking $1,100,000 for its action-RPG Wildman. Featuring the lead creative team behind such titles as Dungeon Siege and Supreme Commander, the game pits you as the titular Wildman, flowing between bloody strategy-based battles and role-playing missions, as the company seeks to combine the best of both worlds into something unique and enriching.
Gas Powered Games is also one of the few to sign up for the Kicking It Forward initiative, which would see 5% of Wildman's profits be channelled back into Kickstarter projects. However, there will not be any profits if they do not meet their hefty goal, so how can you help? For the smallest donation of $20, you will receive one digital copy of the game. While the more rungs you climb grant you better gifts, including a boxed edition with the soundtrack by Jeremy "The Elder Scrolls" Soule, the top donation of $10,000 will see you given the title of Executive Producer. You will also receive an invitation to a day at the design studios where you will featured in the development blog video, and also to the launch party, which will no doubt be wild!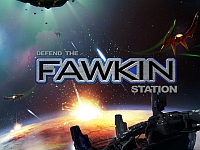 Defend the Fawkin Station
This game merited inclusion because its title does not appear rude unless you say it really fast and with a Scottish accent. Although Fawkin refers to the fictional hero in the game, General George Fawkin, I imagine the title came into being by someone shouting really angrily.
But I digress. The mobile/tablet touch-based sci-fi shooter from Puerto Rico outfit Work in Motion Studios sees you placed in the titular station that protects a planet from annihilation by a horde of aliens. The station manoeuvres around the planet on a huge orbital ring, and is upgradeable from the debris of the enemy vessels it destroys.
Promising a mix of hectic, strategic shooting, Work in Motion is seeking the small sum of $10,000 to expand the shooter, which was the result of a 32-hour game jam. For the small pledge of $5, you will be drafted in under the rank of Seaman and given a free digital copy of the game. Working your way from Ensign ($10) to Captain ($100) will see you gifted with various pieces of sexy sci-fi artwork, while the top spot of Fleet Admiral ($1000) will see your likeness appear in the game, alongside your name in the credits as Associate Producer.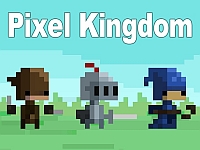 Pixel Kingdom
At Warp Zoned we are big fans of pixel art, so when Pixel Kingdom appeared on my screen, I grinned. Designed by University of Central Florida student Sean Young, it sees you lead an army of pixelated warriors out onto the battlefield, where you will fight a vast number of beasts and creatures through an infinite number of levels, powering up and gathering collectibles on your merry way.
While it may lack the finesse or sheer budget of Wildman, Pixel Kingdom has a true sense of itself; it is simple, fun, and has a nostalgic art style. This will be the Computer Science student's eighth game, and he is seeking the tiny sum of $5,000 in order to afford the game engine licensing & software he needs to build it. While the game will be available on PC, Mac, iOS and Android, Young also hopes to build a Linux model if his funding is achieved. While he is accepting $1 in exchange for his humble gratitude, more money will see you receive the usual array of gifts such as t-shirts, art work and posters. $100 will allow you to suggest a background level design with appropriate design credit, $150 will do the same with an enemy unit, $200 a collectible power-up, and $400 for a unit to play in the game, helping tweak its stats and abilities.
Well, we're only one month in to 2013, and already the quality of gaming projects on Kickstarter has managed to exceed my expectations. I hope one of these projects will strike a chord with you as they have me, and have you reach into your wallet or purse to shake out some loose coins. Remember, just like Mario, you can't take money with you when you die, so you might as well do something useful with it in the here and now. Until next time, gamers.
CAKE!