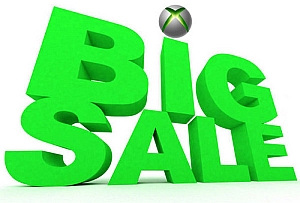 Xbox fans get ready for a good week.
Today, Major Nelson released the good news that from Feburary 26 through March 4, over 60 Xbox 360 Games on Demand titles will be on sale. All 60 games will be at least 75% off and some will drop as much as 85% off for the "Xbox Ultimate Game Sale."
A different batch of games will go on sale each day and many of the titles have already been confirmed by Major Nelson. Hit the jump for a list of some of the games you can expect.
Assassin's Creed
Assassin's Creed II
Assassin's Creed: Brotherhood
Assassin's Creed: Revelations
Batman: Arkham Asylum
Batman: Arkham city
BioShock
Borderlands
Borderlands 2
Call of Juarez
Call of Duty 2
Call of Duty 3
Call of Duty: Black Ops
Call of Duty: Black Ops II
Call of Duty 4: Modern Warfare
Call of Duty: Modern Warfare 2
Call of Duty: Modern Warfare 3
Call of Duty: World at War
Civilization Revolution
Dark Messiah of Might and Magic: Elements
The Darkness
Dead Island
Dirt 2
Dishonored
El Shaddai: Ascension of the Metatron
Fable III
Fallout 3
Fallout: New Vegas
GRID
Half-Life 2: The Orange Box
Halo 3
Halo 4
Halo Reach
Halo Wars
Kane & Lynch Dead Men
The King of Fighters XIII
Left 4 Dead 2
Max Payne 3
Metal Gear Solid: HD Edition
Metal Gear Solid: Peace Walker
Mortal Kombat
Mortal Kombat vs. DC Universe
Portal 2
Rayman Raving Rabbids
Resident Evil 4
Resident Evil 5
Resident Evil 6
Resident Evil: Code Veronica
Resident Evil: Operation Raccoon City
Red Dead Redemption
Street Fighter IV
Street Fighter X Tekken
Super Street Fighter IV: Arcade Edition
Tekken 6
Tekken Tag Tournament 2
Tom Clancy's Ghost Recon: Advanced Warfighter
Tom Clancy's Ghost Recon: Advanced Warfighter 2
Tom Clancy's H.A.W.X.
Tom Clancy's Rainbow Six: Vegas
Tomb Raider Legend
Virtua Fighter 5
This could perhaps be the last major sale of the Xbox 360's lifecycle, so jump on it guys!