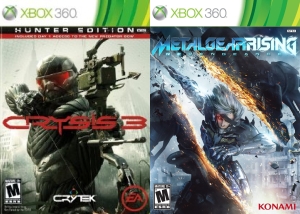 There's just two new releases this week (though more to come thanks to the download services of Sony, Microsoft, and Nintendo), but they definitely both qualify as BIG new releases.
First up is Crytek's futuristic first person shooter, Crysis 3. The initial print run is available in a special Hunter's Edition for the PC, PS3, and Xbox 360. Every person who purchases the Hunter's Edition of Crysis 3 will also receive a coupon code for a free download of Crysis.
Platinum's "lightning action" game, Metal Gear Rising: Revengeance is also ready for release this week. The swordfighting epic will be available for the PS3 and Xbox 360. A Limited Edition that includes a "high-frequency katana blade plasma lamp" will also be available.