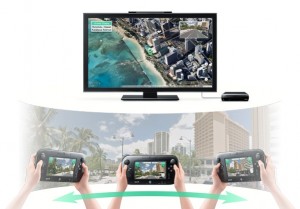 Nintendo's mapping service for the Wii U, Wii Street U, is now available on the Wii U eShop as a free download. But if you're interested in the Google Maps-powered application, I suggest you get it quick, as it'll be free only for a limited time.
3DS players will get a chance to download three games this week: the NES version of the arcade classic Dig Dug, the minigame collection Rabbids Travel in Time 3D, and the mythical pet-raising game Petz Fantasy 3D.
You can read all about these titles (as well as new additions to the DSiWare Shop and Wii Virtual Console) after the break.
Wii U eShop
Wii Street U – With Wii Street U powered by Google, you can step into Google Street View with an immersive experience that will make you feel like you're actually there. View a 360-degree Google Maps Street View of locations all over the world using the Wii U GamePad controller's motion controls. Jumping to a location is easy: Just use the GamePad touch screen to type in an address or location and start exploring, or instantly travel to more than 70 hand-picked locations around the globe.
3DS eShop
Dig Dug – The classic arcade game comes to Nintendo 3DS. In Dig Dug, you must defeat the deep-dwelling Pooka and Fygar by using your harpoon and pumping air into them, or by dropping rocks from above. Lure and defeat multiple enemies at once, and collect vegetables for bonus points. Destroy all the enemies to clear each stage.
Rabbids Travel in Time 3D – Join the Rabbids as they travel back in time in a washing machine and make a mess of history. Play a wide variety of mini-games in four different historical environments: pre-history, Egypt, Rome and King Arthur. Customize and unlock nearly 50 unique costumes, such as a cowboy, Egyptian and Musketeer.
Petz Fantasy 3D – Discover and take care of your very own lifelike magical pets. Become best friends, teach them tricks and dress them up! Bonding with your Petz has never felt so real!
DSiWare Shop
Moke Moke – Take control of a Moke forest creature and compete in a series of frantic 4 player head-to-head games to see who can collect the most treasure scattered throughout the forest.
Wii Virtual Console
World Heroes 2 Jet – World Heroes 2 Jet, initially released in 1994, is the 3rd in the prolific fighting game series. Choose from 16 historical or well-known heroes, villains and fighters and battle your way to the top to become the world's greatest warrior!