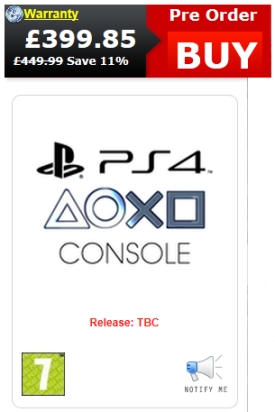 Many have described the recent PlayStation 4 launch event as all flash, but no real bang. While Sony showed off a number of new (and not so new) titles and tech demos, this was the icing to a cake that never appeared. The company left gamers hanging with three main questions; what does the new console look like, what date will it be released, and what will it cost?
Well, UK retailers are pre-empting the latter question by allowing consumers to pre-order the console. While GAME has not mentioned the full price, they are taking a £20 deposit for pre-booking Sony's new beast. Online rival Zavvi has gone one better, attaching a price tag of £399.95 to the machine. While this works out at just over $600 in American dollars, UK console and game prices often tend to be inflated compared to their US counterparts. Zavvi have listed a vague release date of the 31st December, but do warn that the "release date and price [are] unconfirmed. Payment will not be taken until dispatch." So no promise that Zavvi will fulfill the listed price if Sony sets a higher one.
With nearly a full year to go before the supposed release, ShopTo has already outpriced Zavvi at £399.85. As well as guaranteeing that price, they have stated that if the price at release is actually cheaper, they will honour the lower price. ShopTo also has the launch titles, such as Killzone: Shadow Fall, Watch Dogs and Knack available for pre-order at the not unreasonable price of £48.85 each.
Of course, all this is huge speculation on the part of the retailers. While Sony did not go into any detail at the announcement, as with the previous generation there are likely to be a number of packages and bundles with additional hard drive space or accessories (although Sony did confirm the dual-lensed PS4 Eye will come as standard).
US retailers, such as Amazon, Best Buy, and GameStop, have yet to put a price on the PS4.
So what do you think of those prices, readers? Are they sweet enough to make you part with the cash come Christmas?