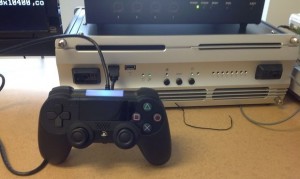 The PlayStation 4/Orbis rumors continue to leak out of Sony like… well, like a rumor leaking out of Sony. I mean really, the consolemaker is just terrible about keeping secrets. Thank god they don't run the Witness Protection Program.
This time, Destructoid has gotten their hands on a picture that is purported to show the PS4's controller, up close and personal. A separate inside source, speaking to IGN, has stated the controller is real, but that it's a PS4 prototype and not representative of the final design.
The image (click to enlarge) shows a standard-looking DualShock controller with a massive touchscreen affixed to the center. The analog sticks have been changed from their traditional convex shape to more closely resemble the concave sticks on the Xbox 360 controller. Finally, the d-pad buttons have been moved closer together, though they still don't form the "plus" that the Nintendo-style pad is known for.
Oh, and what's that blue light on the top?
Hopefully we'll find out the answer to all of these questions next Wednesday, February 20, during Sony's "The Future" presentation.