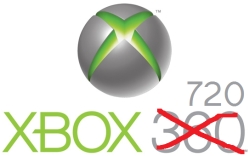 I have a feeling this Xbox 720 "logo" is going to get a lot of work over the next few months.
STFU and Play has posted a rumor that claims Lucid Games (a development house made up of former Bizarre Creations and Criterion staff members) is hard at work on Project Gotham Racing 5 for the Xbox 720/Durango.
Bizarre Creations created the PGR series back on the original Xbox and a new entry has been rumored to be in development ever since Activision scooped up Bizarre in 2007.
Interestingly enough, a search of Lucid Games' website reveals a mystery project known as "Sky Light" that carries the tagline "Road Opens 2013."
This lines up nicely with STFU and Play's assertion that Project Gotham Racing 5 will be a launch title for the Xbox 720/Durango, which is rumored to launch in Fall 2013.