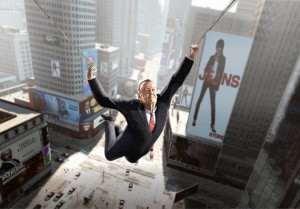 We knew that The Amazing Spider-Man would spin his web on the Wii U in an "Ultimate Edition" containing the main game and all of the previously released downloadable content. But now we know when… Activision will release the game for the Wii U on March 5.
In addition to all four previously released DLC packs (including the "Amazing Stan Lee Adventure"), the Ultimate Edition will include a pair of Wii U-specific features:
Transform the Wii U GamePad with the Oscorp OsPhone – Access Spidey's in-game cell phone via the GamePad to accept new challenges, navigate the city, and manage his upgrades.
Off-Screen Mode – Lets users swap instantly between playing on the big screen and the GamePad whenever they choose.
According to Amazon, The Amazing Spider-Man: Ultimate Edition will be priced at $59.99. Let's hope that's a typo.