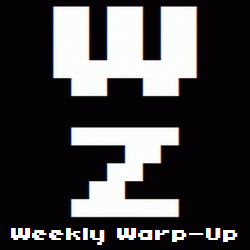 No, that's not a typo. Welcome to the Weekly Warp-Up, your weekly wrap-up of the biggest and the best articles posted at Warp Zoned this week…
The entire world is still processing Sony's massive "Meeting 2013" and the reveal of the PlayStation 4. Are you all caught up on the latest PS4 news? Here, let us help you.
The DualShock 4 controller includes everything the rumors said it would including a touchpad, a Share button, and redesigned thumbsticks. You want games? How Knack from Sony Japan Studio (trailer here), DriveClub from Evolution Studios (trailer here), InFamous: Second Son from Sucker Punch (trailer here), and The Witness from Jonathan Blow (trailer here).
Oh, and how could we forget Killzone: Shadow Fall? Set 30 years after the events of Killzone 3, Shadow Fall is looking pretty polished in its first trailer and even made an appearance on Late Night With Jimmy Fallon, where it was confirmed as a PS4 launch title. Side note, Anthony Anderson is not a gamer. That's OK, being a Law & Order alum forgives a lot.
Third parties got in on the act too including Capcom (with dragonhunting game Deep Down), Bungie (Destiny), Ubisoft (Watch Dogs), Blizzard (Diablo III), and Square Enix (with a Final Fantasy game that'll be announced at E3). In fact, "every" major publisher/developer is signed on to develop for the PS4.
It won't block used games and it'll be available this holiday season. Ladies and gentlemen, the PS4.
For more next-generation shenanigans, be sure and take a look at our Essential Guide to Next-Generation Games: Version 1.0.
Do you have no interest in the PS4 but still want a healthy dose of game news from the last week? Please read the rest of the Weekly Warp-Up.
The Week in New Games…
Amazing Paperboy Delivers…
It's A Secret To Everybody…
And Finally…
Do you want more first person Mario? You've got it.