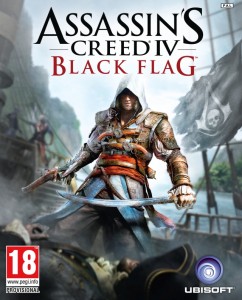 Some pirate shenanigans have been going on over the weekend, with Gaming Everything posting the debut trailer for Assassin's Creed IV: Black Flag days earlier than its official release on Monday, March 4.
While the cinematic trailer does not show any actual gameplay footage, following in the path of every other entry in the series, it does hint at new characters and gameplay elements. Narrated by the notorious Edward Teach, AKA Blackbeard, the trailer shows the mysterious and charismatic sailor assassin Edward Kenway, father of Haytham Kenway and grandfather to Conner, the less-than-popular main character of Assassin's Creed III. Kenway Senior, who has a bit of a Simon Belmont about him, looks very much the dashing pirate rogue with Blackbeard embellishing tales of his heroics. He also has a hint of Ezio Auditore's charm, bedding a couple of nubile young wenches. As well as the assassin missions and an expansion of the well-received naval missions from the previous games, its looks as though Kenway will be swimming down to the ocean bed to find treasures amongst the wreckage of old ships.
The trailer names the release date as October 29th for current platforms, but states that it is "also coming on next-gen consoles." Since there is no release date set for the PS4, and the Xbox 720 has not even being announced yet, it seems Ubisoft are casting their nets as wide as possible.