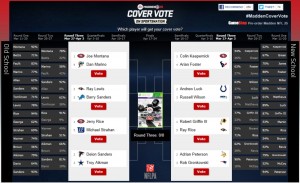 I know it happened on Wednesday, but the higher seeds dominated the final voting in the second round of the Madden NFL 25 Cover Vote. Michael Strahan on the Old School side and Ray Rice on the New School side were the only players ranked as the 5th seed or lower able to break through.
That means all-time greats Joe Montana, Jerry Rice, Ray Lewis, Deion Sanders, Troy Aikman, Barry Sanders, and Dan Marino all live to see another day. They're joined by Colin Kaepernick, Robert Griffin III, Adrian Peterson, Andrew Luck, Russell Wilson, Rob Gronkowski, and Arian Foster from the New School side.
Any one of these players would make a deserving Madden cover athlete. And you can cast your round three votes at ESPN.com/MaddenVote now through April 3. Be sure to check out the round three matchups after the break.
Old School
1 Joe Montana vs 4 Dan Marino
3 Barry Sanders vs 2 Ray Lewis
1 Jerry Rice vs 5 Michael Strahan
3 Troy Aikman vs 2 Deion Sanders
New School
1 Colin Kaepernick vs 4 Arian Foster
3 Russell Wilson vs 2 Andrew Luck
1 Robert Griffin III vs 5 Ray Rice
3 Rob Gronkowski vs 2 Adrian Peterson