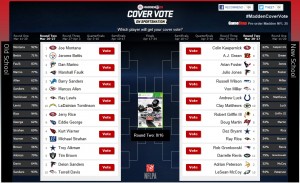 The first round of voting for the Madden NFL 25 cover athlete is in the books and it went more or less as you'd expect. In the New School bracket, Adrian Peterson won his first round match in decisive fashion, garnering 94% of the vote against Carson Palmer. And over on the Old School side, Jerry Rice and Deion Sanders both put up impressive numbers, flattening Fred Taylor and Cortez Kennedy, respectively.
If I were a betting man, I'd wager that all three will make the final four.
ESPN has updated the brackets and voting for the second round is now open until Wednesday, March 27. You can head over to ESPN.com/MaddenVote to vote and be sure to check out all the second round matchups after the break.
Old School
1 Joe Montana vs 9 Jerome Bettis
5 Marshall Faulk vs 4 Dan Marino
6 Marcus Allen 3 Barry Sanders
10 LaDainian Tomlinson vs 2 Ray Lewis
1 Jerry Rice vs 9 Eddie George
5 Michael Strahan vs 4 Kurt Warner
6 Tim Brown vs 3 Troy Aikman
10 Terrell Davis vs 2 Deion Sanders
New School
1 Colin Kaepernick vs 8 A.J. Green
5 Julio Jones vs 4 Arian Foster
6 Von Miller vs 3 Russell Wilson
10 Clay Matthews vs 2 Andrew Luck
1 Robert Griffin III vs 8 Doug Martin
5 Ray Rice vs 4 Dez Bryant
11 Darrelle Revis vs 3 Rob Gronkowski
10 LeSean McCoy vs 2 Adrian Peterson