Kickstarter has been receiving a lot of attention in the press this week, mostly due to cult TV show Veronica Mars. Rob Thomas' 24-hour success story (currently sitting at 175% funded) has been perceived by some as a wake-up call to the film industry, and by others as the end of Kickstarter's indie innocence. The latter group highlighted the fact that Warner Bros. still owns the rights to the franchise, and that the multi-million dollar company will reap the benefits of the charitable donation of others. Those who have donated will have unprecedented access to information on the film during production, and fans donating over $35 will receive a digital copy of the film. While my own opinion on the positives and negatives of this project fluctuate, there was one detail that seemed very worrying. All of the reward levels come with a disclaimer saying "AVAILABLE TO US AND CANADA (NEW!) BACKERS ONLY."
Thomas does acknowledge the fact, saying "there are hoops to jump through" in order to include other territories. It could be this is inherent in the dangers of crowdfunding a project where the rights are held by an entity whose aims are not wholly aligned with the spirit of Kickstarter. We have seen this in the past with rewards that required attendance to an event, but even then, people were still allowed to donate, and had the option to travel. For a show that aired globally, this seems like a worrying, xenophobic trend, one that I hope does not translate to other industries.
In light of this, I thought this month I would focus more on smaller indie projects, including classic side-scrolling action-adventure Shovel Knight, euphoric exploration game SoundSelf, first-person survival horror Pulse, retro pixel-art adventure Bik, surfing sim Kahuna Surfer, and last but not least, sci-fi RPG Reflux: The New World.
Shovel Knight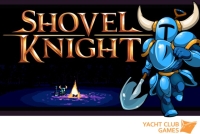 We already reported on Shovel Knight last week, but it's so good we're shouting about it again. The first title from Yacht Club Games is a mash-up of classic 2D side-scrolling action adventure games, starring a medieval version of The Shoveler (William H. Macy's "superhero" character in the criminally underrated film Mystery Men). This armoured blue gardener must use the ancient art of Shovelry to defeat the villainous Enchantress and her evil Order of No Quarter, a gang of unwholesomeness comprised of bosses that are coincidentally suited to their themed surroundings.
The tongue-in-cheek platformer is beautifully rendered in the classic NES 8-bit color palette, while adding dashes of modern flavouring such as animated backgrounds and enriched character animation. The team believes in the concept so much that they wish to bypass a publisher so they are beholden to no one but themselves, which is where Kickstarter comes in handy. Like a shovel.
So what will be your rewards for funding Shovel Knight's quest to rescue his beloved? Well, for a mere $10 you can claim a PC digital copy of the game as soon as it is released, which is estimated September 2013 for Windows ($15 will open up the option of a Wii U or 3DS digital copy). For only $15 more, you will get a PDF set of instructions and a "PDF coffee table book (great for your digital coffee table)!!" At the shinier end of the shovel, pledging $1,000 will see you designated Director of the game for a day, while $2,000 will grant you a visit the studio for a day, as well as partying hard with the developers at night. Shoot all the way to $5,000, and that party becomes a yacht party! As is the norm, travel and accommodation is not included.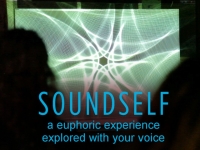 SoundSelf
One of the most inventive (and annoying as ****) games over the last few years was indie Xbox Live title PewPewPewPewPewPewPewPew, where you and a friend controlled a spaceman and his gun via your voices. SoundSelf takes the control concept but applies it in a more artistic, existential way. The game's creative director, Topher Sipes, sums it up like so:
"SoundSelf appeals to me because it bridges the gap between humans and technology; in some way it humanises the technology. It is an interface for exploring inner worlds by using external media in order to do so… The technology and the experience is like a doorway, an introduction, a handshake, a permission slip to experience that inner world."
It is possible that Sipes is The Architect who also built The Matrix, but I digress. The game is based on cymantics, the art of visualising sounds. It takes the sounds you input via a microphone, be it singing, screaming, humming, or chanting, and creates a meditative, striking symmetry of shapes and colors while feeding back the sound to achieve a harmonic experience. Each game lasts an hour, and can be played alone or with a group, with each playthrough being unique.
Developer Robin Arnott has spent one year researching and experimenting with the design, but is now seeking funding to make it a fuller, more intricate experience. For the smallest donation of $10, you will receive the rather substantial supporter pack, a growing collection of material inspired by the game: stills, art, an album and feature length development video. Add $5 to that and you receive a copy of the game for Windows, Mac or Linux. The largest pledge, which is relatively cheap at $1,000 (and only five of six are left), comes with a one-of-a-kind interpretive digital portrait on canvas, a 3D bronze or gold plated pendant, and a customised voicemail greeting.
Pulse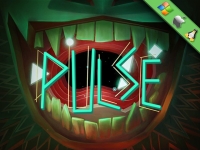 The premise behind this first-person survival game is simple, yet ingenious: your character is blind, but can use soundwaves to construct a mental image of the world they inhabit, similar to Marvel's grim superhero Daredevil. It shares similarities with the WiiWare horror-puzzle Lit, but whereas that was based on physical world concepts of light and dark, here the world is made up of sensory input, meaning the environment and objects can shift and alter as you navigate through what the developers have dubbed "layers of discovery." Waiting to be discovered is an unknown world filled with creatures both helpful and horrifying, rendered in a nightmarish manga style.
Team Pixel Pi started developing the student project last year, having won a Unity Award and featuring as a finalist at the Independent Games Festival. The studio needs the additional funding to purchase software licenses and to retain the sound team used for the prototype design. For $10 you will receive the game on either Windows, Mac or Linux, a wee credit, and some digital love. Add another $10 and you get some more digital goodies such as an art book and wallpaper. The pinnacle of this donation totem pole is $5,000 (limited to one lucky gamer), which will see you flown to Vancouver (from anywhere in North America or Canada) to enjoy a dinner with the team in a thematically suitable blind dining restaurant, as well as receiving various other goodies including a T-shirt and 7″ character plushie.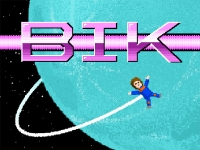 Bik
Back in the day before LucasArts repeatedly disappointed us, they made the most amazing point-and-click adventure games, including the hilarious Monkey Island, biker drama Full ThrottleThe Dig. Bik inhabits the spirit of these, especially the latter: a retro pixel-art space adventure featuring the titular character lost in space, trying desperately to get home after being abducted by aliens.
The game is mainly a one-man project by New Jersey resident Mike Pinto, who has written the story, programmed the game, and composed the soundtrack. However, there is only so far one man can go, and now the entrepreneurial developer is seeking help via Kickstarter to cover the cost of artwork and software licensing. For a mere $8 you will receive a DRM-free copy of the game on Mac, Windows or Android. Double that donation and you will receive an in-game credit and some quirky wallpapers. The middle tier rewards up to $100 will grant you a copy of the prequel comic designed by artist Neil Numberman. Hitting the $1,000 mark will see you "Beyond the Edge of the Universe," receiving a signed printed version of the comic, a unique poster specifically designed for you, and a pixelated version of yourself within the game! Bik me up, Scotty!
Kahuna Surfer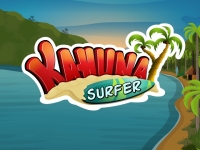 Another game from a lone developer, this time from the gnarly and bearded Jim Ramirez, who promises a one-of-a-kind surfing game for iPhone and Android. Ramirez has taken a very personal approach to his Kickstarter campaign, detailing his past, how he met his wife, and how that led to him taking up surfing, learning the rules and mastering the motion of the ocean. As Ramirez states, "It was during this time that the creative nerd inside of me saw how these rules could fit into a video game."
While his "one-of-a-kind" claim is stretching it – there are many mobile surfing games, such as Billabong Surf Trip and Surfing Beaver (not what it sounds like) – Ramirez is trying to combine a game with a surfing tutor, to make a more realistic and easier way to learn how to master the waves. With the small goal of $2,500 in order to get the game through the final stages of development, as well as making more characters, boards, and a stronger storyline, his goals are certainly achievable. For $5 donors will receive a free unlocked version of the game, with all the trimmings, while those who donate $500 or more will become Mondo Backers. The title will grant you the honour of designing a character and storyline for the game (Point Break anyone?) along with some freebies like a t-shirt, koozie, in-game credit and beta access. Coolaphonic or what?
Reflux: The New World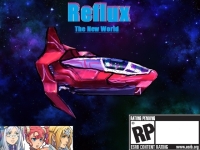 A sci-fi RPG tribute to the likes of Chrono Trigger, Final Fantasy Tactics and The Legend of Zelda: A Link To The Past, Reflux is the brainchild of designer Christopher Cencirulo. The technically minded programmer is seeking funding to further flesh out his epic vision, where sci-fi space travel meets medieval knights and kings.
The standard $10 donation will see you receive a digital copy of the game on PC when it is released in August 2013, although future versions are planned on Android, iOS, and possibly consoles as well. A larger sum of $50 will grant you a credit as co-author, where you get to create a quest within the game. The top tier, the amazingly low $150 (limited to 20 people), will see you crowned Galaxy Ruler, receiving the game, goodies, beta access, and an invitation to development sessions for this and other games Cencirulo has planned in the future.
And that's it for another edition of Kickstart This! It's all wrapped up in a neat little bow, with several projects for you to help develop and nurture through donations. Hopefully one of them will inspire you to sink some much needed coins into their coffers. These are people who want to develop games not only for profit, but for the sheer pleasure of it. They don't all have the fan base of Veronica Mars and company, so let's help them out just a little.