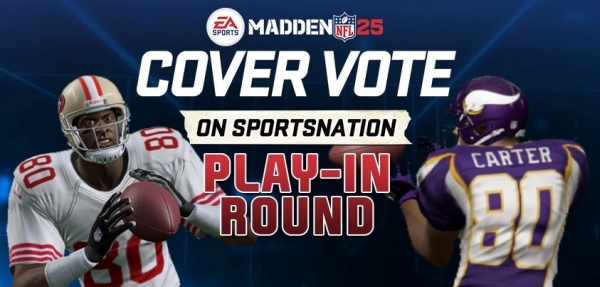 The Madden NFL 25 Cover Vote officially begins next Monday (March 11), but EA Sports and ESPN's SportsNation launched the vote-by-Twitter play-in round today. The first matchup is Hall of Fame wide receiver Jerry Rice versus newly-minted Hall of Fame wide receiver Chris Carter. You can make your selection by tweeting a message of support to Rice (with the hashtag #Madden25Rice) or Carter (with the hashtag #Madden25Carter) now:
The #MaddenCoverVote Play-In starts NOW: Vote for @jerryrice w/ #Madden25Rice or @criscarter80 w/ #Madden25Carter! twitter.com/EAMaddenNFL/st…

— EA SPORTS Madden NFL (@EAMaddenNFL) March 4, 2013
This year's Madden Cover Vote will include 32 current players versus 32 all-time greats with one of each facing off in the final round. While no one's seen the final bracket yet, I have to ask, how was Jerry Rice not an automatic pick? The man wasn't just a great wide receiver, he was the greatest wide receiver.
Of course, Carter is an ESPN analyst (and one of Chris Berman's favorite players), so I suppose that explains Carter's challenge of Mr. 80.