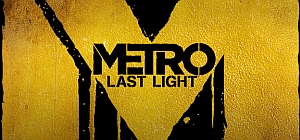 With the first half of the THQ auction complete, many of the publisher's former projects are being added to the 2013 calendar. And with today's announcement from Deep Silver, it looks like Metro: Last Light will be the first one to make its way to stores.
The sequel to Metro 2033 will be released for the PC, PS3, and Xbox 360 on May 14 (May 17 in Europe) in a special Limited Edition. THQ originally planned to ship the game this month, but Deep Silver plans to use the extra time to allow developer 4A Games a chance to make Last Light "even better."
"The new release date is the ideal way to strike the balance between bringing the best out of Metro: Last Light and not keep the fans waiting longer than necessary," said Dr. Klemens Kundratitz, CEO of Koch Media. "We won't leave that time unexploited and will work closely together with 4A Games to make the game even better. It will receive all the attention it deserves."
Deep Silver also purchased the rights to Saints Row 4 at the THQ auction, hopefully we learn more about that one soon.