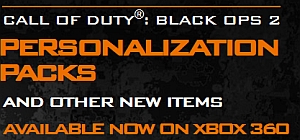 The Xbox 360 version of Call of Duty: Black Ops II is getting more personalized as Treyarch has added several customization packs to the game's downloadable offerings.
Personalization Packs will let players loadout with a themed weapon camo, reticle, and Calling Card.
The Extra Slots Pack gives players more media storage capacity.
Flags of the World Calling Cards adds flags to your Calling Card choices.
If you'd prefer not to spend any money, the Treyarch team has also made the "Nuketown 2025" map free for all Xbox 360 players. The map was previously only available to those who pre-ordered the game or purchased the Care Package edition. The "Nuketown Zombies" map is also available for all, but it'll set you back 400 Microsoft Points ($5).
More details on all of the new DLC can be found after the break.
Personalization Packs (160 Microsoft Points each)
Each themed Call of Duty: Black Ops II Personalization Pack comes loaded with a themed weapon camo, three uniquely-shaped reticles, and an all-new themed Calling Card by which your enemies can remember you. Nine unique themes to choose from.
Extra Slots Pack (160 Microsoft Points)
The Extra Slots Pack increases the number of customizable Create-A-Class slots to 10 sets of 5 slots and significantly expands media storage capacity, allowing players to archive 20 more emblems, 32 more films and 40 more screenshots.
Flags of the World Calling Cards (80 Microsoft Points)
Show your national pride with a Flags of the World Calling Card Pack, which includes national flag-themed Calling Cards from countries located in this region.
Nuketown Zombies Map (400 Microsoft Points)
All Zombies fans can now get their fix with the Nuketown Zombies map. If you're familiar with the events of "Moon," you're ready for the fiction of Nuketown Zombies. Previously only available in the Call of Duty: Black Ops II Collectors Editions and Season Pass.