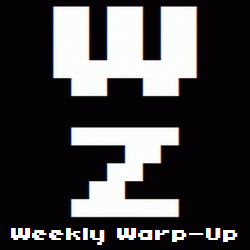 No, that's not a typo. Welcome to the Weekly Warp-Up, your weekly wrap-up of the biggest and the best articles posted at Warp Zoned this week…
It's a glorious day in the northeast. No snow and plenty of sun. But before you head outside, a bunch of rumors are swirling around the game industry and some of them are pretty juicy.
For example, Mojang is considering a version of Minecraft on one or more PlayStation platforms after their exclusivity contract with Microsoft is over. But I'm sure you're a seasoned rumor connoisseur, and you want something even juicier than that. OK.
How about upheaval at LucasArts and possible trouble for Star Wars 1313? Or possible chaos at Visceral Games and the cancellation of the yet-to-be-announced Dead Space 4 (EA denies this, by the way). We've also got another Deus Ex domain sighting, this time for Deus Ex: The Fall. And Take-Two is developing "an extensive pipeline of unannounced titles." Can you say next-generation consoles? I knew you could.
And none of this has even touched on the SimCity server mess. EA is fighting with their fanbase over the possibility of refunds while also making plans to give away a free game to make up for the game's "dumb" launch.
Also, you shouldn't pre-order a PS4 yet, trust us on this. There's more news from the week that was (and more importantly, more rumors) after the break.
The Week in Reviews…
The Week in New Games…
Amazing Paperboy Delivers…
It's A Secret To Everybody…
And Finally…
A trio of great videos for your Sunday… Dennis Rodman and Kim Jong-un in an NBA Jam parody… a King of Kong parody set in the world of Wreck-It Ralph… and a PBS Inventors profile of Ralph "The Father of Video Games" Baer.