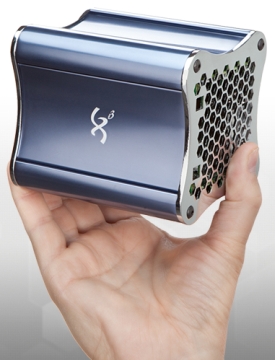 The "Steam Box" wars have begun.
While Valve's official Steam Box likely won't be in stores until 2014, Xi3 has announced that their version of the PC-based console, the Piston, will be available this holiday season for a price of $999.99. Does a thousand bucks sound a bit steep for a "console"? Well, Xi3 actually agrees with you and will slash the price to $899.99 if you pre-order it between now and Sunday, March 17.
"Clearly, the computer/video gaming market is huge, both in the personal computer and traditional console markets," said Jason A. Sullivan, President and CEO of Xi3. "That being said, we believe there is a crying need for a machine that captures the best of both worlds, with the upgradeability of computer gaming rigs and the design and form factor of consoles. We believe our Piston consoles do exactly that—deliver the beauty and small size of consoles with the upgradeability of computers."
The standard Piston console will include a 128GB SSD hard drive, but additonal models will be available that include a 256GB SSD ($1,339.99) or a 512GB SSD ($1,749.99).