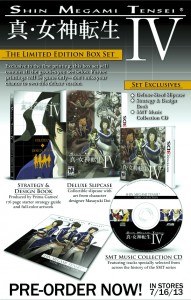 This afternoon's Nintendo Direct presentation was stuffed full of new information on a ton of different 3DS and Wii U games. And if you're an RPG fan who also happens to own a 3DS, Nintendo has two dates they want you to circle on your calendar.
Atlus' long-awaited Shin Megami Tensei IV will be available on July 16 in a special Limited Edition box set. In addition to the fourth game in the series, SMT fans will be able to obtain a special Strategy & Design Book and a SMT Music Collection CD. According to Atlus, after the first printing of the game, this special edition will be gone.
Finally, Mario & Luigi: Dream Team will be available in stores and the 3DS eShop on August 11. A teaser trailer for the game can be found after the break.