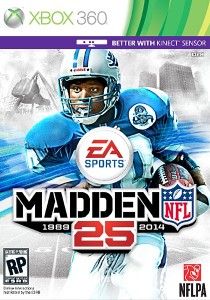 The votes have been tallied and the fans have spoken… Barry Sanders, former running back for the Detroid Lions, has been chosen as the cover athlete for Madden NFL 25. The Hall of Famer absolutely destroyed his competition, Minnesota Vikings running back Adrian Peterson, and collected 58% of the vote.
In all, 700,241 votes were cast in the final round and more than 40,000,000 were cast throughout the entire tournament. It was an uphill climb for most of the "New School" players and even a final round matchup featuring today's top running back felt like a lost cause. Of course, that's what happens when you go up against the greatest running back of all time.
To celebrate the choosing of this year's cover athlete, EA Sports has released the first Madden NFL 25 gameplay trailer, which you can find after the break. Nadden NFL 25 will be released for the PS3 and Xbox 360 on August 27.