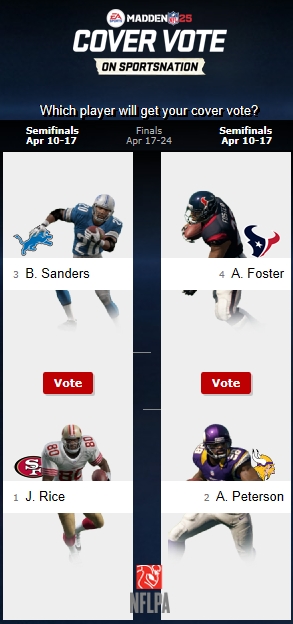 Down goes Deion! Down goes Deion!
The man with 47 nicknames has been bounced from the Madden NFL 25 Cover Vote by Jerry Rice, the greatest wide receiver of all time. I guess if you're going to lose, there's no shame in losing to someone like Jerry Rice (who, if you recall, had to earn his spot in the Cover Vote). The remainder of the quarterfinals included a Barry Sanders win over Joe Montana and victories by Arian Foster (over Russell Wilson) and Adrian Peterson (over Robert Griffin III).
So the final "Old School" matchup features Jerry Rice (#1) vs Barry Sanders (#3) and the final "New School" matchup will be Adrian Peterson (#2) vs Arian Foster (#4). Be sure to get your votes for the semifinals in today at ESPN.com/MaddenVote. Voting is open now through April 17.
Madden NFL 25 will be released for the PS3 and Xbox 360 on August 27.