Today, Ubisoft announced that it'll distribute Pwnee Studios' ridiculously hard platformer, Cloudberry Kingdom. The game will be available on the PlayStation Network, Xbox Live Arcade, Steam, and Wii U eShop this Summer.
Less than five months old, the Nintendo Wii U eShop is thriving and it is already home to a variety of interesting titles. In the first of a series of interviews looking at indie game development on the platform, TJ Lutz, Vice President of Pwnee Studios, answered some questions about their upcoming 2D platformer.
Andrew Rainnie, Warp Zoned UK Correspondent: Please describe to us in ten words or less what the storyline is behind Cloudberry Kingdom?
TJ Lutz: Stubborn hero pursues final rescue target to finally attain retirement.
WZ – Andrew: Cloudberry Kingdom has been thus far described as "the platformer to end all platformers," with a difficulty rating that stretches into the region of insane. Do you think 2D platformers have grown stale and easy?
Lutz: We wouldn't really say that 2D platformers have necessarily grown stale and easy, we have games like Super Meat Boy and I Wanna Be the Guy (among others) to crush that sort of a generalization. We do feel like games in general are slowly creeping towards the "easy" side though. There has been a lot of growth in gaming lately, mostly geared towards a more casual group of players. We want to be inviting to the more casual gamers, while at the same time letting the more seasoned veterans know that we haven't forgotten them.
WZ – Andrew: Could you tell us a little about why you wanted to create a game like this, and the AI behind the automatic level creation?
Lutz: It all started in a dirty basement with an NES. When Jordan and I were around 8 or 9, we used to play Super Mario 3 religiously. It was just the right amount of challenge for us at the time, and we couldn't wait to start it up and play again every time we turned it off. Eventually, we were good enough to beat the game… and that was it. It ended. No more levels. What were we going to do with our lives!? After our 8 year-old midlife crisis, we vowed to get revenge for everyone in the world who had been cut off from Mario levels. Twenty years later, we finally built an A.I. that could give us all of the platformer levels we could ever want. And now we can die happy!
WZ – Andrew: You are developing Cloudberry Kingdom for Nintendo's new platform, as well as Steam, PSN and Xbox Live. We have heard polarised opinions about developing for the Wii U, how have you found programming for the machine?
Lutz: Everybody at Nintendo has been fantastic to work with, and has been very eager to help us out whenever we ran across a problem. Their support group is pretty quick to get back to you, and has very helpful feedback most of the time. I am not the programmer, so I can't really go into much detail about programming on the Wii U, but most of our difficulty seemed to come from the porting process, since we initially started the project using XNA. Had we started in a language that was accepted across all platforms, I think everything would have gone much more smoothly; I suppose that's how you learn valuable lessons. In terms of Nintendo itself, the experience has gone pretty smoothly.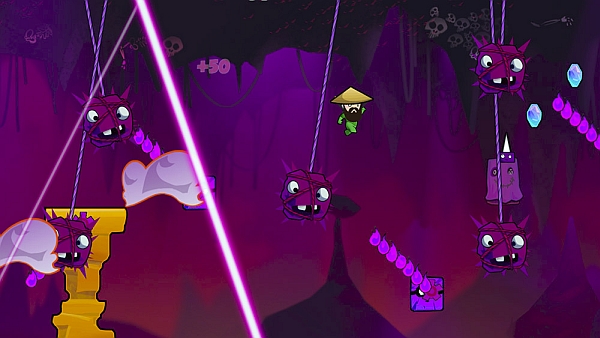 WZ – Andrew: Nintendo does not have the best reputation when it comes to working with third-party developers. What has been your experience submitting to become an official Wii U developer and tinkering away on a game for them?
Lutz: We had also heard about Nintendo's reputation concerning third-party developers. We can't really say much from experience, since we haven't worked with them prior to Cloudberry Kingdom, but they have been great so far! We were actually really surprised about how easy they have been to work with after hearing all of the rumors. I believe they may have caught wind of their third-party reputation, and seem to be in the process of completely turning it around.
WZ – Andrew: Have you been disappointed by the negativity that seems to be surrounding Nintendo's new console in gaming journalism, given that, in terms of sales numbers, it is on par with the initial launch of both the PlayStation 3 and the Xbox 360?
Lutz: There has been kind of an odd cloud hovering around the Wii U in gaming journalism, and I can understand why. I don't think the console was really explained in great detail before it hit the market, and that has led to some initial struggles. There still seems to be some confusion going around about what the Wii U actually is, and what it is capable of. That being said, being on par with PS3 and Xbox 360 initial launches really isn't bad at all. Look at the success that has come from those systems. Not everything can take off as quickly as the Wii. I imagine sales will start increasing once some more titles have been released on the Wii U, and once people start really understanding what it is capable of.
WZ – Andrew: The Wii U marks a decisive shift for Nintendo in terms of online integration. What are your thoughts of the Miiverse and Nintendo's eShop in general? Have you spent much time there? Is there anything you would like to see as these evolve?
Lutz: I really like the idea behind the Miiverse. It is a very neat concept, and a pretty cool implementation if you ask me. It makes turning on the Wii U almost have an MMO feel to it. You actually get the chance to see what games people are playing, and you can head into areas specifically for those games. It just gives an entirely different feel to the community – like it is alive or something. And on a lesser advertised note about the Miiverse, there are actually a good number of pretty talented artists who draw pictures based on each game. It is actually fairly entertaining to just sit on the main menu and watch for a while. But it also makes me jealous since I struggle with just drawing stick people.
The eShop seems to have a far superior layout to that of the Wii, and I think it will be much more successful with the number of planned releases for it. There seems to be a number of good games lining up for a shot to be on the eShop. That being said, I haven't really had a whole lot of time to play around with the Miiverse or eShop, so I can't really say what I would like to see as they evolve. They seem to be built on a pretty solid base, so they could certainly branch out and do some other very interesting things with both of them. I suppose since I'm a stats nerd, my most desired evolution would be some sort of system that can measure how well people that play game X perform at game Y. It would be neat to be able to see some statistics that say "People who play "Hardgame A" are 40% better at Cloudberry Kingdom than those who play "Noobville" or something like that.
WZ – Andrew: Does Cloudberry Kigdom have any features specific to the Wii U version? Will it have any features that integrate specifically with the Miiverse?
Lutz: Since we are releasing on multiple platforms, we decided that it would be better to be fair to everyone and make sure that every game has the same features. Although, we did decide it would be neat if each platform had a different set of levels in the story mode. So we have four unique story modes for people to play through.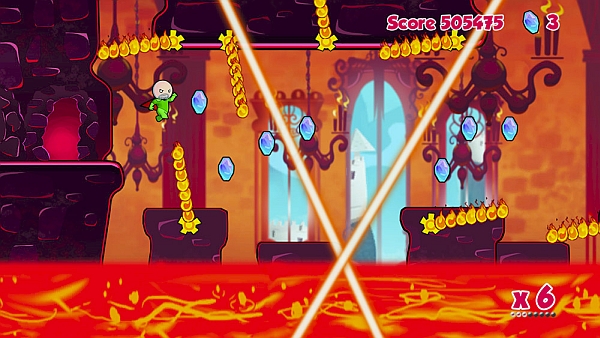 WZ – Andrew: Cloudberry Kingdom has localised multiplayer for up to four players, similar to New Super Maris Bros U. Was that decision inspired by Nintendo's initial Wii U offering? Can you tell us a little about how the localised multiplayer works?
Lutz: We actually decided that the game should have local multiplayer within the first few weeks of working on it. We have always been fans of games where multiple people can play at the same time, because who really wants to wait for their turn? Cloudberry Kingdom is plenty of fun to watch, but it is much better to play.
We have three different game modes, all of which are multiplayer compatible:
In Arcade mode, you can to choose from a list of hero types and are thrown into one of four mini-games meant to test your mettle. The advantage to playing with friends is that you will only lose a life if everyone dies. If three of you die on a level, but player 4 makes it through, it behaves as if nobody died and you move on!
In Story mode, you progress through the story as usual – but it gets progressively harder as you go. The benefit to playing with friends here is having multiple attempts in one go. There are infinite lives in Story mode, (you'll need them J) but it is good to have a friend playing alongside you in case you can't figure out how to get through a certain section of a level.
And then there's Freeplay, where you get to customize a level however you want it. The main reason for playing with friends here is because you want to be able to torture as many people as you can at one time. Want to crank every obstacle up to its maximum level? Of course you do! And your friends will hate you for it!
We also added an extra mode in the game that is only unlocked when playing multiplayer. Bungee mode. This mode ties you and your friends together with bungee cords, and it is just as crazy as it sounds. Most bungee mode sessions end in hysterical laughing and tears. I suggest you try it!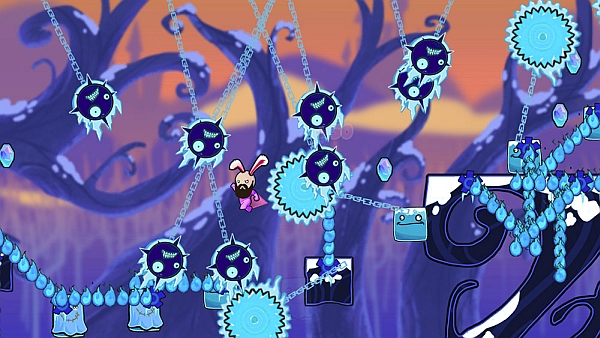 WZ – Andrew: You turned to Kickstarter in order to get the game finished, managing a successful campaign. How did you find the challenge of communicating the ideas of the game to potential backers? Do you have any advice to other developers looking to do the same?
Lutz: Before turning to Kickstarter, I think it is very important to have a functioning game. Have lots of pictures, concept art, screenshots, videos, etc. Without having these things prepared ahead of time, you are really going to struggle with communicating to people what your game is going to be. It is also very important to stay active on the Kickstarter. I was in the middle of moving to New York at the beginning of our campaign, and we struggled mightily because of it. People love to see that you are actually making progress, and working towards the things that you want to achieve. If you post frequent updates and stay in touch with the community, you will have a much better chance of success. The best thing that Kickstarter provides you, is a first look at how people are going to perceive your game. These people are the ones who will be purchasing your game when it comes out, listen to what they have to say – because most of the time their advice is what other people who have interest in your game are thinking.
WZ – Andrew: From the Kickstarter campaign, you entered a relationship with Tigar Hare Studios to provide cutscene animations. How has it been working with them, and was this something you had always wanted in the game?
Lutz: Not only did Tigar Hare Studios provide us with the cutscene animations, they also did all of the in-game art! The main reason we chose to utilise Kickstarter was to secure funding to be able to improve the art for Cloudberry Kingdom. Tigar Hare Studios was able to provide us with a very generous offer, as well as going above and beyond in what we asked of them. They have been great to work with, and have shared a lot of great ideas and experience with us throughout the making of the game.
Cutscenes were definitely always something that we were hoping to have. For a long time we were hoping to have something similar to the cutscenes that were featured in Super Meat Boy, something fun and quirky. But when we began talking with Tigar Hare, they allowed us to expand into the realm of high-quality 3D cutscenes. How are we supposed to say no to that!?
WZ – Andrew: From connections with Tigar Hare you managed to land KULL THE CONQUEROR himself, Kevin Sorbo, and his wife Sam Jenkins to lend their vocal talents to the game. What was it like directing these cult icons?
Lutz: We are honestly pumped about how well everything turned out working with them. Kevin did the voice acting for our main character, Bob. And I can't imagine him having any other voice. I'm still dumbfounded by how well Kevin's voice fit into Bob's physique (no offense Kevin). Both Kevin and Sam were great to work with, and it was a fun experience getting to direct them. They are both very nice people, and were very easy to work with. We were also able to get Martin Olson, who voices Hunson Abadeer in Adventure Time, to play the role of our villain. He definitely gave us a memorable performance, and was a super nice guy to work with as well!
WZ – Andrew: You recently implemented a no shaving policy until the game is complete. Was this specific to just the facial region? Just how itchy are your chins getting?
Lutz: Haha, we didn't specify the regions – so I'll just assume it is limited to the face. My chin didn't really get itchy, but I have a killer neckbeard… and that itchiness drove me nuts. I actually gave in recently and shaved… so I had to rock the greensuit at work for a couple of days as punishment. Everyone else is still hanging in there, though Jordan seems to be the only one manly enough to grow a real beard. But I'll be honest, now that I shaved, I FEEL GREAT! NO REGRETS!
WZ – Andrew: Finally, what the hell is a Pwnee anyway?
Lutz: According to our original website, a pwnee is:
1. A gamer who has been pwned.
2. The recipient of a "Class A" beatdown.
3. A teabag receptacle.
But we have matured since then. We are now going to label everyone who is unable to finish the final level of Cloudberry Kingdom a pwnee – leaving us as the pwner. You have all been officially challenged, the gauntlet has been thrown. We don't think you can do it.
WZ – Andrew: Our thanks to TJ Lutz and all the team at Pwnee Studios for taking the time out of their hectic schedule finishing Cloudberry Kingdom. We look forward to playing it when it is released in the near future.