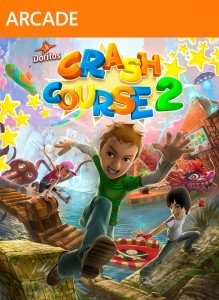 Doritos Crash Course was an advergame that mixed a Wipeout-like obstacle course with constant advertising for Doritos brand chips (I mean, it's right there in the title). Yet, it was also beloved by the Xbox Live community and is one of the most popular Xbox Live Arcade games of all time.
So the announcement of a sequel, Doritos Crash Course 2, is enough to make me celebrate with a Doritos Locos Taco from Taco Bell and some Cool Ranch Doritos for dessert! On second thought, I think I'll just stick with the game as its actually fun and WON'T cause horrible intestinal pain.
According to Microsoft, Doritos Crash Course 2 is "coming soon" and will appear on the XBLA as a free-to-play title. Players (and their Avatars) will be able to run and jump through four new locations and challenge their friends' best times with downloadable ghosts.
If you'd prefer to skip the whole free-to-play thing, Doritos Crash Course 2 players will be able to buy "coins" that they can use to unlock new courses, power-ups and vanity items.