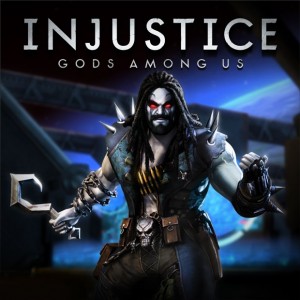 NetherRealm Studios boss Ed Boon hinted at it last month, and now, it looks like Lobo has been all but confirmed as the first downloadable addition to Injustice: Gods Among Us. The concept art you see to your right featuring the alien bounty hunter and the game's logo leaked online recently.
Lobo is a larger-than-life personality and will likely add some comic relief to Injustice as a DLC character. NetherRealm is planning to add four characters to the game over the next few months, each of which has bee priced at $5 apiece. You can also get all four at a discount if you pre-purchase the Injustice Season Pass, which is available on the PlayStation Network and Xbox Live Marketplace for $15.
Injustice: Gods Among Us was released for the PS3, Xbox 360, and Wii U yesterday.
UPDATE: NetherRealm has confirmed Lobo will be Injustice's first DLC character.