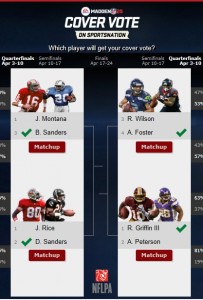 The third round of the Madden NFL 25 Cover Vote is in the books and the top-seeded players continue to rumble towards the deciding round. But there were a few upsets of note.
Over on the "New School" side, the fourth-seeded Arian Foster ran over 49ers quarterback (and number one seed) Colin Kaepernick. To be fair, Kaepernick probably wasn't deserving of the number one seed in a fan-voted contest. In another upset, Third-seeded Russell Wilson pushed past Andrew Luck, the two seed. On the "Old School" side, things are as they should be with Joe Montana (#1), Jerry Rice (#1), Barry Sanders (#3), and Deion Sanders (#2) all advancing to the quarterfinals.
You can the remaining matchups below. And don't forget to vote for your favorites in quarterfinals at ESPN.com/MaddenVote. Voting is open now through April 10.
Old School
1 Joe Montana vs 3 Barry Sanders
1 Jerry Rice vs 2 Deion Sanders
New School
4 Arian Foster vs 3 Russell Wilson
1 Robert Griffin III vs 2 Adrian Peterson
Madden NFL 25 will be released for the PS3 and Xbox 360 on August 27.